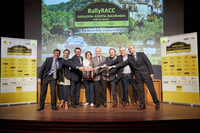 The triangle made-up of Costa Daurada, Salou and PortAventura World will continue to be, for the 14th time in a row, the nerve centre of the Spanish round of the WRC. The RallyRACC is still the only rally of the world championship calendar with a mixed gravel-tarmac layout and it is precisely the gravel sections that include the main innovations.

The stage that has been part of the main difficulty of the gravel day, Terra Alta (Vilalba-La Fatarella), evolves to become the great novelty of this edition. The special stage will now be called La Fatarella-Vilalba with a completely new configuration. The first 23 km are the end of Terra Alta, run in opposite direction, to continue on 12 km which are completely new, until Vilalba dels Arcs. The surface-changes from tarmac to gravel will continue to be decisive, but with a completely different itinerary.

This first day will see the comeback of two stages that were not raced since 2014: Gandesa' and Pesells', thus creating a day in which novelty is a standard. The other two days, run completely on tarmac, will include stages that are already known by the participants of the last two years. Special stages that have proven to be highly selective.

Another novelty of 2018 will be the comeback of the urban stage in Barcelona that will contribute to a large extent to the expectation of the media. It will be identical to the last time it was staged, in 2016.  The 54 RallyRACC will have its start on that same day (Thursday, 25 October) in the morning, on the podium in Salou. This town will be again host to the well-known urban stage that will repeat its position of every year, as the last special stage to be run on Saturday.

The 54 RallyRACC slightly increases de percentage of timed kilometres, with a total of 331.78km, as opposed to the 312.02km of one year ago.