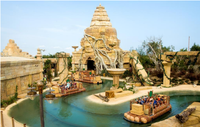 Angkor: adventure in the lost kingdom
PortAventura continues to drive forward important projects at the theme park. Angkor is being launched this summer season, a boat ride that takes visitors on a 10-minute journey, making it a European leader. This water attraction simulates a naval battle in a setting inspired by an Asian jungle. The ride occupies an area of 10,500 m2, a size more common to an entire thematic area. There are 14 boats that hold eight people each, which translates into a total of more than 700 people per hour.
New innovations this summer at PortAventura include another starring name: Cirque du Soleil, making it the first European theme park to have a performance by this company.
The Cirque du Soleil will present Kooza each day to audiences some 2400 people strong.  Kooza showcases amazing acrobatics and the art of clowns.