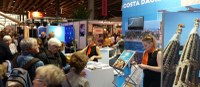 The outstanding presence of Costa Daurada, with a big stand of its own, and of the three municipalities in the tourism fair TOURISSIMA, in Lille, is the result of the cooperation both of their Tourist Boards and the business sector to manage jointly the tourist tax on stays in tourist establishments. This cooperation meets the strategic goal of raising the number of French visitors in the area in 2015. Woody, a character from PortAventura who attended the tourism fair every day, was in charge of the entertainment in the stand, especially towards the families.
Family tourism as well as sun and beach, in addition to the leisure opportunities, gastronomy and culture, are some of the most demanded products in the Costa Daurada stand. The mayor of Lille, Martine Aubry, who was in charge of the fair opening, showed an interest in what the area has to offer.
The fair took place in Lille at the weekend of January 23-25, and it is addressed to final customers coming from the Nord-Pas de Calais region, which has around 1.5 million inhabitants and is one of the most populated areas in France.
One of the most welcomed news was the recent opening in 2014 of a direct flight Lille-Barcelona operated by Vueling three times a week, which makes it much easier for French tourists to visit the area, instead of traveling by car as they used to do.
The Costa Daurada stand has received a large number of visitors, mainly families and senior citizens. The stand was located next to important distribution groups such as Carrefour Voyages, Auchan Voyages, Fram, Nouvelle Frontieres and Selectour Afat, which have significant sales in that area of France. This fact has contributed to the continuous influx of people who visited the stand, interested in Costa Daurada and its accommodation possibilities.
During the fair, some local media have also been promoted, and an interview was broadcasted in the regional radio FRANCE BLEU NORTE to promote the destination and, more specifically, the presence in the fair.
.