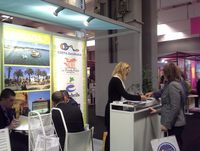 The participation of Costa Daurada's Tourism Alliance, formed by Vila-seca, Pineda Beach, Cambrils, Reus, Salou and Port Aventura's boards as well as the Tourist Board of the County Council of Tarragona, has been coordinated by Calafell Evasion, travel agency which offers coach trips based in La Pineda-Salou specialized in the French market and working with some agencies such as Sabardu Tourisme, Triangle Voyage,Ginhoux Voyage, Chauchard evasion, among others.
The action of the group at Mappro fair was focused on presenting and publicizing Costa Daurada to the European public in general and the French, in particular. Indeed, the numbers of visitors from the summer season 2014 show that the attractiveness of Costa Daurada among the French public is not only maintained but it has grown to become one of the most important markets of the season, reaching 12% of total demand. This year, according to Calafell Evasion forecasts, it is expected to reach around 20,000 tourists from the neighboring country during the off-season.
These statistics demonstrate the importance of the French market in Catalonia and Spain. The action Mappro has aimed to reach a visitor who is characterized as it is composed mainly of senior couples over 50 and because they travel to Costa Daurada by coach. These tourists tend to move around the area and consume leisure and culture in equal parts, besides they also visit Port Aventura. Moreover, given the proximity of their home, the French tend to be regulars in low season, helping to strengthen the deseasonalization of Costa Daurada's tourism.