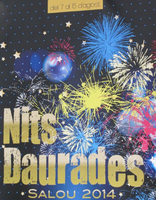 The capital of Costa Daurada celebrates its summer festival par excellence with an extensive program of activities and star performances from Wizard Lari, Dani Martin, Extremoduro and Los Diablos.
Salou will be celebrating from Thursday its most awaited festival of the summer, the "Golden Nights", with a number of popular recreational activities to make its neighbors and visitors and the whole family enjoy. The capital of Costa Daurada bets this year, among others, for the performances of artists like the Wizard Lari, Dani Martin, Extremoduro and Los Diablos, as well as fireworks.
The starting pistol of the Golden Nights will take place on Thursday, August 7 with the reading of the local festival opening speech of the summer festival, which will be hosted by journalist Joan Sánchez Cal.
The opening speech will be the start of a week full of activities in which music will play an important role. Thus, August 8, Extremoduro, one of the most recognized bands of Spanish rock, will fill with music the Salou Municipal Football Pitch. On the same stage two days after, it will take place the concert of Dani Martin, known for being the composer and vocalist of Canto del Loco group. With a totally different style, the legendary group Los Diablos will thrill the audience on August 14 with the hottest hits of its time.
Fireworks, children activities, tradition and culture will complete the schedule of activities of the "Golden Nights" of Salou, arriving this year with a full program of over twenty proposals free of charge suitable for all public and all ages. In this sense, one of the highlights will be the performance of the Wizard Lari, who will fill of magic and illusion Wednesday night, August 13. The Golden Nights will last until August 15.
With this celebration, Salou, located only 100 kilometers away from Barcelona, has become one of the most important Mediterranean leisure centers. The capital of Costa Daurada offers a variety of activities for all types of visitors, from families, to young people, sportsmen and senior public.