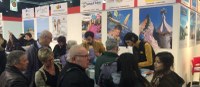 Costa Daurada is being promoted these days at "Salon des Vacances", the most important tourism fair in Belgium. This fair, which is addressed both to professionals and final customers, has had a large number of visitors. Salou and Cambrils have been taking part in it for over ten years, trying to gain the loyalty of the Belgian market. In this action, both Salou and Cambrils are being promoted, together with PortAventura, within the Turespaña stand. They have been accompanied in the fair by business people from Costa Daurada, especially from the camping sector, (Cambrils Park, Sangulí and Costa Daurada Campsite Association).
The Belgian market is both important and unique, since Belgian travellers, who are often senior citizens and families, choose long stays. According to the Tourism Observatory, from April to October 2014, foreign tourism in Salou represented 45.6%, and 1.9% of them were Belgian.
Belgian market is small but very interesting, as proved by the high average expenditure of Belgian tourists. Besides, they enjoy nature, the quality and beauty of the beaches, the good weather, gastronomy and sports (cycling and soccer). Therefore, the outstanding beaches, the campsite services and the good restaurants that Salou and Cambrils have to offer fulfil Belgian tourism demands completely.
Belgium is the European country where Spain as a destination has grown the most. 2.2 million tourists from Belgium arrived in Spain in 2014, and this meant a 16.4% growth. For Belgian people, Spain was the second most visited destination, only after Turkey. However, political instability in Turkey makes it likely for Spain to be the top destination for Belgian market this year.