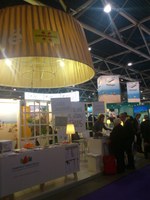 Vakantiebeurs is one of the main fairs of the Dutch market and it is the first one of the season for Salou to attend.
In the previous year, this Dutch fair received over 117,000 visitors and had more than 1,200 stands. Most of the Dutch tourists that visit Catalonia are families traveling during the school holiday season. 

Costa Daurada has been promoted in the 45thVakantiebeurs fair, in the Dutch city of Utrecth, in its own space within the stand of the Catalan Tourist Board.
Thirteen entities from Costa Daurada have participated together in this fair, including the Tourist Boards and Offices of Cambrils, El Vendrell, Montroig, Salou, Tarragona, Torredembarra and Vila-seca and the Campsite, Apartment and Hotel Associations.
The Costa Daurada Water Sports Centre and the PrioratEnoturisme Association have also attended the fair.