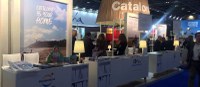 The tourism industry is gathering until 5 November for the World Travel Market (WTM) in London, one of the largest tourism trade fairs in the world. Together with other companies from the private sector in the town, the Salou Tourist Board has travelled to London to exhibit alongside the Costa Daurada Tourist Board at the institutional stand organised by the Catalan Tourism Agency.
The regional capital of the Costa Daurada has been attending technical and political meetings with a delegation led by Mayor Pere Granados, accompanied by the Town Councillor for Tourism, Benet Presas, and the Managing Director of the Board, Juan Carlos Capilla, to hear the latest trends in this market of such major importance for the town. The Mayor of Salou, Pere Granados, wished to support the private sector at this business event and expressed satisfaction with the fact that "all the tour operators agree on wanting to increase their presence in Salou with more tourists and to extend the summer season, especially in key areas". In this regard, the Town Councillor for Tourism, Benet Presas, said that "all indicators point to a good summer 2016 season in this market, as well as an improved outlook for growth in terms of connections with more flights to Reus Airport". The macroeconomic situation in the country (with an unemployment rate of approximately 5%) and a strong Pound provide positive economic conditions for an upward trend in the sale of holiday packages. According to the Tourism Statistics Watchdog, the tourism data from the 2015 season show that the British market accounts for almost 20% of tourism in Salou, with the largest number of inbound tourists this year (19.6% of the total). This is an increase on the 18% in 2014. In contrast, according to the overall data provided by the Regional Government of Catalonia for 2014 and in terms of the countries of origin of the inbound tourists visiting Catalonia, the United Kingdom stands in second place behind France. The opposite is true in Salou.

The 36th WTM in 2015 expects to gather over 51,000 tourism professionals keen to discover the latest trends in this industry and do business. In total, over 5,000 exhibitors from 200 countries are attending the trade fair.