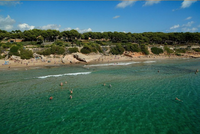 The 2014 tourist season has started in Salou with an increased percentage of visits by tourists coming from the country. This is indicated by the comparative statistics between June 2013 and 2014. According to the data handled by the Tourist Board of Salou, the percentage of Spanish tourists visiting the capital of the Costa Daurada this June was 40%. In June 2013, this figure was 34%, demonstrating that Salou has become holiday destination among the Spanish public.
The origin of these tourists is diverse, but the most common are those coming from Aragon, Basque Country, Navarra and Madrid. According to data in 2013, almost 70% of Spanish tourists from outside Catalonia came from these four regions.
Regarding foreign tourists arriving in Salou, the beginning of summer 2014 highlighted the continuing importance of Russian tourism in the town.  A 22% of foreign visitors who came to Salou in June 2014 came from Russia. In June 2013, this nationality represented 25% of visits. These figures show that the numbers of Russian visitors are stable. A part from Russia, the other top nationality in Salou is still the British. Both countries are source markets of one third of visitors to the capital of the Costa Daurada.
As for the type of tourists, data from 2013 highlights that 32.9% of visitors to Salou were families with children and nearly 80% are families with children under 12. Last year, Salou celebrated the tenth anniversary of their certification as First Family Holiday Destination (DTF) of Catalonia and the Spanish state, a recognition received on September 30, 2003. Today, more than 25% of the supply of accommodation in the capital of the Costa Daurada meets the requirements to accommodate families. In addition, 69.1% of families staying repeatin Salou.