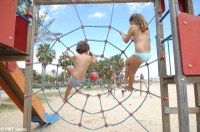 The Catalan Regional Government (Generalitat) has declared 2014 the Year of Family Tourism. This pronouncement will give Salou the opportunity to strengthen its leadership position and the actions it has been implementing since 2003. The certification of being a top family tourism destination is awarded by the autonomous government. Furthermore, this destination is ranked first on the Costa Daurada and guarantees the highest quality of public and private facilities and services to truly have a great family holiday.
 The Salou Municipal Tourism Board and the Salou City Council sponsor and make investments year after year to improve the quality of public services that are offered on the main beaches at this destination. In parallel, initiatives are also started up, such as leisure activities for the littlest ones, that are carried out during the high season. Projects are also executed to recover natural spaces for shelter on the beach, such as the Camí de Ronda, or Seaside Trail, to make them available to families who have selected Salou as their holiday destination.
 At present, some 30 hotel establishments have been awarded the seal of 'Family Tourist Destination'. This qualification ensures that guests and their families will have facilities and items available for the entire family: from cribs to bibs and safety sockets. However, in turn the hotels create products to guarantee that leisure time will also be special for the whole family, with entertainment programmes run by specially trained personnel. This distinction as a 'Family Tourist Destination' also includes hotel restaurants, in which meals for all needs are prepared.
 The declaration of this year as the Year of Family Tourism will ensure that there are a wide range of actions and incentives to make the promotion and products for families grow. Tourist agents can be added to the actions, both as a group via sector associations and individually. Companies that have joined this initiative are listed on the website www.catalunya.com, along with details on the activity they have planned for the Year of Family Tourism.