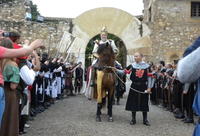 One of the most important centers of leisure of the Catalan coast turned into a medieval village of the late thirteenth century. This is possible in Salou from today until Sunday on the occasion of the celebration of King James I festivities, event which commemorates each year the departure, in 1299, of the Catalan troops led by the famous monarch towards Mallorca in a naval expedition that would end with the conquest of the Balearic island.
The party is led by King James I the Conqueror and his wife, Violant of Hungary. Accompanying them, the whole town of Salou will be leaving these days its modern habits to conduct historical reenactment of great realism that includes workshops and activities for young and adults (stilts, painting, chariot fighting, ingenuity games, group dances, knight fights and an exposition of medieval costumes and weapons, among others). Besides, a medieval market in the old town area of the city is included, where craft stalls and jugglers can be found.
The highlight of the festival will be held Saturday, September 6, when the King James I accompanied by his wife will be riding a horse across the streets of Salou. The parade commemorates the days when the Conqueror crossed Salou looking for an army to accompany him on his journey through the Mediterranean. More than 300 residents of Salou dressed up in period costumes will participate in the parade to represent different characters of medieval society such as soldiers, nobles or monarchs themselves.
The medieval festival is not limited exclusively to the recreation of the city. Some of Salou's restaurants will be offering in his restaurant menus medieval inspired recipes gathered at the famous cookbook of the time written in 1324, known as  'Llibre de Sent Sovi'.