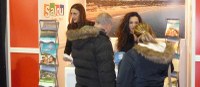 Salou tries to keep its position as the municipality leader in tourism in Costa Daurada, and in Catalonia regarding the sun and beach and family tourism. In order to do that, Salou attended the fair Belfast Telegraph Holiday World Show for the second time last weekend, together with PortAventura. This event is the most important date for tourism in Northern Ireland, and it is organized by the Irish Travel Agents Association. Besides, Salou Tourist Board has taken advantage of this scenario to make a promotion action along with Turespaña.

The tourism councillor Benet Presas has highlighted the fact that "it is mainly families who seek what we have to offer (sun and beach, for instance). That is why we have to keep working, since the future looks bright. The fact that there are direct flights from Belfast to Reus makes communication easier and predicts an increase of this market in our city". It should be taken into account that Salou is the top destination for Irish people. It has been confirmed that the flights operated by Jet2 (Belfast-Reus, twice a week during the summer) and Thomas Cook (Belfast-Reus, twice a week during the summer) will still operate this season. In fact, according to official data of the Spanish Tourist Office in Dublin, there were 27,098 passengers between Belfast and Reus in 2013, which meant an 18% increase compared to the previous year.
 
Taking advantage of the celebration of this fair, a dinner was organized together with the Spanish Tourist Office in London and the Municipal Tourist Board which was attended by around 40 tour operators and travel agents from Northern Ireland, Belfast and the surrounding area. This made possible to exchange first-hand information about the wonders of the capital of Costa Daurada, as well as to promote a video about Salou. The promotion of Salou in Ireland will continue from Friday onwards at the Holiday World Show Dublin (January 23-25).


How do they travel?
It is estimated that 20% of all leisure trips in Ireland are sold through organized packages by tour operators. The rest are sold through agencies or organized directly online by the customer. Ours is a consolidated and well known destination for Irish people.
Together with some advantageous moves taken by operators, there are some macroeconomic indicators that allow us to have an optimistic approach of the Irish market development: the unemployment rate continues decreasing and consumers' trust levels are still high.
According to experts, it is reasonable to predict that trips from Ireland to Spain will maintain very similar figures. However, it is estimated an increase of the tourist expenditure of around 4%, taking into account the cost of flying and the experience from previous years.