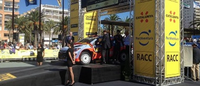 After the Shakedown races in the area of Emprius (initial qualification races), the 50thRallyRACC Catalonia Costa Daurada, penultimate round of the FIA World Rally Championship and held in Saloufor the tenth consecutive year, has kicked off at Plaça de les ComunitatsAutònomes (Jaume I Promenade in Salou). There, the mayor Pere Granados and the RACC president SebastiàSalvadó, accompanied by the president of the Motoring Spanish Federation, Carlos Gracia; the Sports Alderman of Salou's Town Council, Felipe Ortiz;the president of the PMT, Benet Presas and other councilmen, chaired the opening ceremony and official start of the Rally towards Barcelona.
The Capital of the Costa Daurada will remain the heart of this race with the "podium" delivery of trophies, and a race in anurban stage in Jaume I Promenade, which will be held on Saturday 25th October at 5pm.
According to Salou's mayor, Pere Granados, the Salou Rally "is an important event in the tourist season and an opportunity for the revitalization of the economic and business sector of the areaas well as the local one."
He also said that "this is why the Town Council will continue supporting its continuity and promotion for their potential as a unique differentiator."