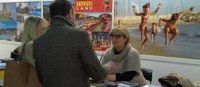 Last weekend, the tourism boards of Salou and Cambrils attended the Holiday World Show in Dublin, offering a promotion for the Irish market, jointly with PortAventura. Once again this year—now the third—the two municipalities attended the trade fair that is open to the general public, to publicise the region among the Irish for when they're planning their yearly holidays.
Located at the Turespaña stand, the space for the two municipalities was complemented by the presence of PortAventura and its presentation of the innovative Ferrari Land, a new ride that has been well received by the attending public. This joint action creates an overall ambience for the Costa Daurada that is highly valued for the complementary proposals and offers. Within the framework of the trade fair, both Salou and Cambrils took advantage of their time there to organise meetings with several Irish tour operators, hotel owners and travel agents, with whom they exchanged tourism information directly. The show was used to obtain new clients and offer products to both Irish professionals and general public. Both boards believe the trade fair has been extremely valuable, as they have noticed an increase in Irish tourists thus far in 2016.
The profile of the end public at the Holiday World Show Dublin is mainly families, with an average of three children per family. Consequently, they are extremely interested in the offering of the two municipalities, both certified as FTD, family tourism destinations, and of course by the attraction of PortAventura. Ireland is one of the countries with the highest birth rates in Europe and they primarily take holidays in the springtime.
Before the show, the Irish Travel Industry Awards took place, at which Spain received four awards. Furthermore, the Travel Extra News Awards took place on Friday night, with Salou jointly sponsoring the dinner along with Turespaña. During the meal, the capital of the Costa Daurada awarded the prize for the best Spanish holiday article, jointly with PortAventura. The event awards Irish journalists specialising in travel and the purpose is to encourage high quality journalistic creation.