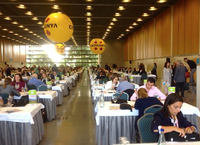 The Salou Municipal Board of Tourism is taking part today in the workshop Buy Catalunya, which is the most important one organized by the Catalan Tourism Agency, where almost 200 companies and 150 tour operators coming from twenty-five international markets collaborate. The aim of the workshop is to facilitate contacts among Catalan businesspeople, tour operators and others intermediary channels with the public.
The method of the workshop is through interviews that last 15 minutes, approximately. At the end of the edition, 2400 interviews are due to be done. Therefore, the attendance at Buy Catalunya becomes, for a lot of participants, a first step to program the tourist products that will be later  included in catalogues and websites specialized in tourism. The workshop is one of the most effective marketing actions that companies have. For  professionals, it is a direct and personalized channel of promotion and commercial relations.
The technicians of the Salou Municipal Board of Tourism have scheduled, for today, twelve appointments with international agents coming from countries such as Armenia, Russia, Kazakhstan, Slovakia, Austria, Holland, England or France.
The participation in this multi-territorial and multiproduct workshop is very important because it allows more effective marketing action for Salou, that the marketing actions of the destination could be channeled more effectively, as it is an excellent tool for promoting commercial and personalizednegotiations.
Moreover, the attending touroperators visit different places of the region. For a lot of them, this is a first step for later scheduling the destination in their catalogues and websites.