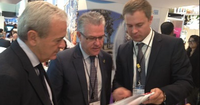 The Salou Municipal Board of Tourism will invest, next year, 115.000€ in marketing and promotional campaigns in the United Kingdom and Ireland, being both very important markets for the capital of Costa Daurada.
The mayor of Salou Pere Granados and the Alderman of TourismBenet Presas announced in the World Travel Market Fair, which was celebrated in London last November, that the Salou Municipal Board of Tourism will keep intensifying actions throughout 2015, in order to make the city's landmark attractions and values known to the British people.
In fact, the participation of the mayor and theAlderman old Tourism in the World Travel Market Fair allowed to define the first promotional actions of Salou as a destination to these markets, which will be fixed in the magazine Irish Travel Trade.
The great quality of Salou's nine beaches, the wide variety of accommodation and also the leisure proposals are the main values that both British and Irish markets take into account when choosing Costa Daurada as target holiday destination. Moreover, there is one more aspect that should be added to the elements mentioned before, which is the closeness to Reus and Barcelona airports.