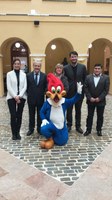 This year, the four municipalities of Costa Daurada (Vila-seca La Pineda Playa, Salou, Reus and Cambrils), along with PortAventura, will be joining efforts with Tarragona for the first time. These four destinations will be together within the Catalonia stand in one of the most important tourism fairs in the world, FITUR, which enables 120 sqm for business people to work and do some networking.
PortAventura will also take advantage of this fair to present what is new for 2015 (new presence of Cirque du Soleil, the Ferrari Land project, etc.) as well as to meet the main tour operators attending the fair.
Last season, there were some signs of recovery of the national market: in the municipalities of Central Costa Daurada, national tourists represented 41% of all tourists in 2014, compared to 39% in 2013. This should encourage, now more than ever, increased efforts addressed to this market. The first action in this direction is attending this fair, since it is the first one of the year that is directed to the Spanish market, both to professionals (Wednesday 28th January to Friday 30th) and final customers (at the weekend).
For more than ten years, the Tourist Boards of Salou, Cambrils and Vila-seca, and more recently Reus, have been working together in a solid way, and this year Tarragona will join them.
Working to improve promotion towards the national market (each destination contributing with what makes it unique) is, without any doubt, one of the goals of this year. It is not the first time that Tarragona joins efforts with the municipalities of Central Costa Daurada to promote this destination: a few years ago there was an action in the city of Santander, addressed to final customers in an important shopping centre.
Therefore, during the days that it is addressed to professionals, FITUR will become a platform for professional networking to promote the destination and make national and international contacts.
With more than 120,231 professional visitors in 2014 and 97,549 non-professional visitors at the weekend, FITUR is considered the most important tourism fair in Spain, with stands from all over the world. Every year, Costa Daurada business people from the tourism sector make the most of this fair, and their networking turns the 120 sqm stand into a business hub.
.