Salou in spring in 1 day
The arrival of spring is a by-word for life and Salou, capital city of Costa Daurada, is no exception. Warm temperatures and quietness of such exciting season turn our city into the ideal destination to spend your holidays or a quick weekend break. Days get longer and longer, and green areas see flowers bursting into live, while mild temperatures makes us want to get out and enjoy the weather.
Thus, if you can spend 24h, why not being in touch with nature. Mornings are the best moment of the day to walk along the Coastal Path, a 1.2-mile pathway built following the coastline –going from Pilons to Platja Llarga beach–. The course allows users to enjoy the incredible natural and landscape richness around it.
Those searching for a proper adventure can discover an even more natural 2.5-mile path –taking from Replanells to Racó–, which leads to Salou's Lighthouse, while enjoying the sea breeze, as well as the pleasant heat of the sun in spring.
 
Weather in spring becomes the perfect excuse to stroll along the different beaches and coves of Salou, while enjoying the great sensation golden fine sand and Mediterranean water provides. Of course, beaches are the ideal place to go to in order to chill our and get away from routine. You'll find urban beaches such as Ponent Beach and Llevant Beach; some surrounded by nature, like Llarga Beach and Capellans Beach, and little coves such as Cala Llenguadets, Cala Penya Tallada, Cala Crancs, Cala Font and Cala Vinya. Oh, and if you feel like having a little break, why not visiting the various beach bars available!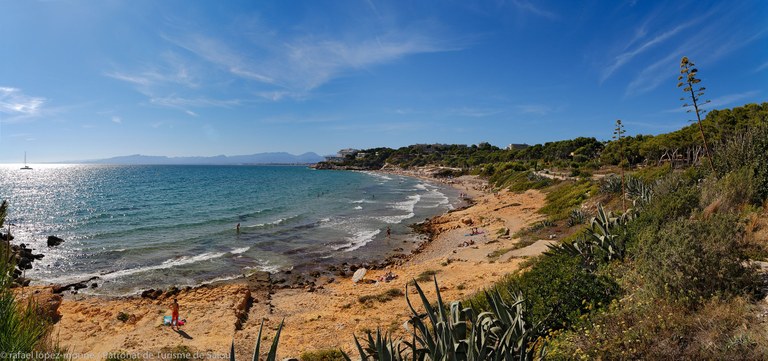 We do recommend you to discover Jaume I Promenade, with the Art-Nouveau Villas and Monument to King Jaume I, and walk round the Harbour, where you'll get to admire the Harbourmaster's Office and the Monument to the Fisherman. Also, and specially designed for kids, you'll find an exciting playground.
After a long and delightful walk, it's time to have lunch in any of the various restaurants in Salou that specialise in local, Mediterranean and international food, located around Carrer Barcelona street; all this, together with the best wines and sparkling wines, or cavas, of our territory.
Want to enjoy shopping? Salou's commercial offer is varied and it is divided into 3 main areas: Ponent –old part of the town, Barcelona street and surroundings– is open all year long, and it provides the exciting Local Market, besides the weekly Street Market, every Monday on Passeig 30 d'Octubre; the Jaume I Promenade area, the perfect place to get the best in fashion and souvenirs, and Llevant area –by Saragossa street and Carles Buïgas avenue– with a variety of shops and restaurants.
Moreover, Salou provides you with the easiest and most convenient way to get to know the city: the Tourist Train, with 2 new routes, a new image, future audio-guides for both kids and adults, and specially-designed ramps for disabled passengers.
Travelling with kids? Then you have to visit Bosc Aventura, Electric Karting Salou and Karing Salou, and the incredible experience Creuers Costa Daurada boats provide.
And don't forget to capture the best sunsets in Costa Daurada from Pilons, Punta de Po-Roig, Punta del Cavall and Salou's Lighthouse viewpoint –opened until sunset–, where red, blue and ochre colours turn the sky into a truly unforgettable experience.
And if you feel like making the most of the day even more, you've got to see the incredible shows of the Cybernetic Fountain and the Illuminated Fountain, with incredible water, lights, colours and music choreographies, due every night for a truly amazing experience. Check out the schedule and make sure you don't miss them!
 See you soon in Salou for the best experiences and sensations!
 
Check out what to do and visit on your second day in Salou