ELECTRIC VEHICLE CHARGE POINTS
Salou has 4 EV charging stations:
- Corner of Via Roma and Berenguer de Palou street (opposite the Mercat Municipal-Local Market) - 2 spaces
- Corner of Major Street and Illes Balears Street (behind the Patronat de Turisme-Tourist Office) - 2 spaces
- 14 Pau Casals Av. (opposite Centre Atenea) - 2 spaces
- 11, Victòria dels Àngels street (EsclatOil petrol station) - 2 spaces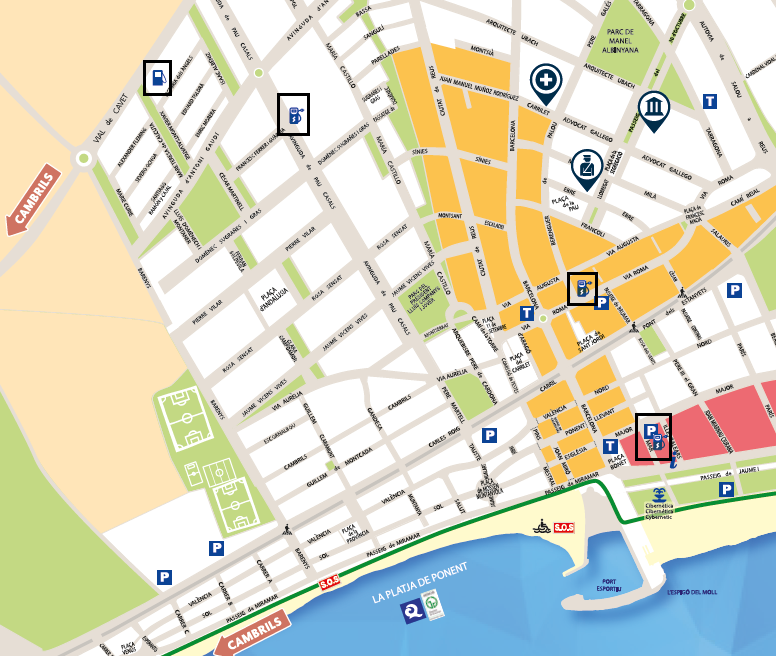 The town has several semi-fast 22kW charging points, allowing the complete charge of two vehicles at the same time in approximately 1,5hrs
They are equipped with plugs for cars, vans, motorbikes, quads and bikes.

RFID CARDS

The charging points allow the use of RFID Cards from other towns belonging to the Catalan Government's Alliance of Municipalities for Interoperability, such as: Barcelona, Cambrils, Lleida, Reus, L'Hospitalet de l'Infant, Amposta, Tortosa, Vilafranca del Penedès and Sitges among others.

APARCAR APP
Aparcar allows EV charging at the official charge points. Users have to register their cars as electric vehicles.
Then, they may choose Blue Area parking payment or EV charge. They just have to select "start recharging" and the vehicle they want to recharge, and then scan the QR code found on the charging point to open the plug cover and start the recharging.
This service is totally free. 
Aparcar App may be downloaded from either Android or IOS stores.
 

ELECTRIC SCOOTERS

If you ride an e-scooter, you must observe the following rules:

- Always travel on bike lanes or Via 30 (streets where speed limit is 30km/h).
- Riders must be 15 or older.
- You must wear a helmet.
- Use lights and reflective clothing at night.
- Horn and brake system.
- Keep a 1.5m distance from pedestrians and buildings.
- Use bike parkings.

It is not allowed:

- More than one person per vehicle.
- To ride on sidewalks, intercity roads, motorways, tunnels or Via 50 (streets where speed limit is 50km/h).
- Maximum speed allowed is 25km/h. You must follow the direction of traffic.
- To tie them to trees, traffic lights, benches, street lamps or any other urban furniture.
- The use of headphones and mobile phones while riding.


Click here for the leaflet on Personal Mobility Vehicles.