Recharging points for electric vehicles
Salou thinks of you so that you can recharge your electric vehicle. For this reason, we have 4 points distributed throughout the town:
- Corner of Via Roma and Berenguer de Palou street (opposite the Mercat Municipal-Local Market) - 2 spaces
- Corner of Major Street and Illes Balears Street (behind the Patronat de Turisme-Tourist Office) - 2 spaces
- 14 Pau Casals Av. (opposite Centre Atenea) - 2 spaces
- 11, Victòria dels Àngels street (EsclatOil petrol station) - 2 spaces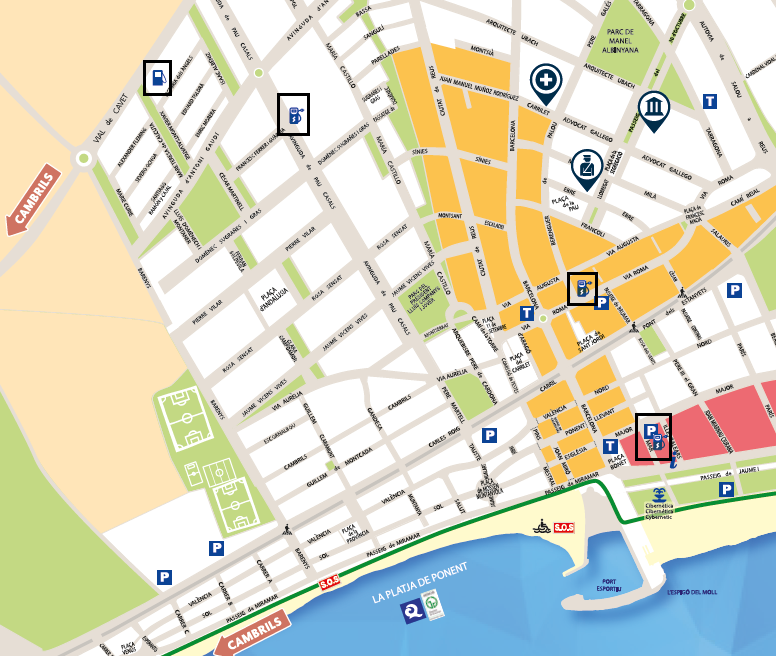 In the capital of the Costa Dorada you will find semi-fast charging points that allow the simultaneous charging of two vehicles, with a charging time of 100% of the battery in approximately 1.5 hours.
These points have connectors for cars and vans, and sockets for motorbikes, quadricycles and bicycles.

How to charge my vehicle?
Charges can only be made using the EVCHARGE mobile application.
This application allows the payment system associated with the user's payment card to be included at the time of registration. The application, when starting the load, informs the user of the price, who will already be aware of the established price, and once the load is finished, it will calculate the amount with the current rate, generate a charge on the card and send an email to the user with the ticket/invoice for the service performed, with its final amount.
Refills will include charging depending on the amount of energy supplied, at the established price of €0.40/Kwh, and it is a rate for all vehicles, without distinction.
Download the Evcharge App for Android and the Evcharge App for IOS!
Download the Aparcar App for Android and the Aparcar App for IOS!
Electric scooter regulations
If you ride an electric scooter, you must respect the following rules:
- Always travel on bike lanes or Via 30 (streets where speed limit is 30km/h)
- Riders must be 15 or older
- You must wear a helmet
- Use lights and reflective clothing at night
- Horn and brake system
- Keep a 1.5 m distance from pedestrians and buildings
- Use bike parking

It is not allowed:
- More than one person per vehicle
- To ride on sidewalks, intercity roads, motorways, tunnels or Via 50 (streets where speed limit is 50km/h)
- Maximum speed allowed is 25km/h. You must follow the direction of traffic
- To tie them to trees, traffic lights, benches, street lamps or any other urban furniture
- The use of headphones and mobile phones while riding

Consult the Salou Personal Mobility Vehicles Brochure.